Dorothy Foster is the author of Former Schools and Outdated Teacher Rules. Dorothy is a member of the Shelby County Historical Society, a former teacher at Anna High School, and former staff member of the Ohio State Department of Education.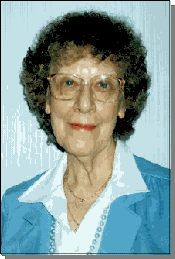 A Sidney High School graduate, Dorothy earned her B.S. in Home Economics from Bowling Green. She taught high school economics for six years in Michigan, as well as teaching for two years at Anna High School. During that time, Dorothy earned her Master's Degree in Home Economics from Michigan State University. She also studied theology in Illinois.
For nine years, she served as Assistant State Supervisor of Home Economics and State Advisor for the Ohio Future Homemakers of America. Dorothy later returned to work in a variety of support positions for Wilson Memorial Hospital, Shelby County Youth Services and Dorothy Love Retirement Community, among others. She was also a volunteer worker with Big Brothers/Big Sisters and served as the Historian/Office Assistant for the Shelby County Chapter of the Red Cross.
Dorothy's GAC job includes maintaining the organization's scrapbook, writing their history, handling correspondence, as well as other administrative tasks. Dorothy has extensive writing skills -- writing several travel articles for The Sidney Daily News and penning the 75-year history for the Red Cross. In 1998, she completed work on the 10-year history of the Gateway Arts Council, which they published that summer.