Jim authored multiple articles that are included in this archives in addition to serving as editor of the Shelby County Historical Society's monthly newsletter, "Historical Highlights". In 1998, Jim was a recipient of a third-place award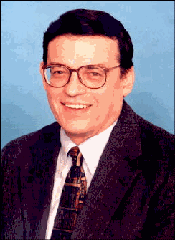 in a creative writing contest sponsored by the English Department at Sinclair Community college.
Jim served as the Shelby County Historical Society's first Executive Director in 1998 and 1999. As a volunteer, he produced their newsletter, researched the "Out of the Past" column for the local newspaper and coordinated the Society's membership efforts. Jim lived near Swanders in Franklin Township in the farmhouse in which he was born and raised. Earlier Jim and his wife, Karen, lived in northern Virginia for 30 years, and he worked for the U.S. Department of Agriculture as a writer-editor before retiring and returning to Shelby County in 1993. A graduate of Anna High School and the Ohio State University, he was also employed at the Amos Memorial Public Library.
Jim passed away on April 30, 2006 and the Society lost a hard-working, dedicated member. To quote the preface of the book, Pioneer Church, researched by Jim but not completed,
"Jim Sayre was a wordsmith in the best sense of the term. He wove words together to tell a story in such a way that one couldn't wait to read the next sentence."