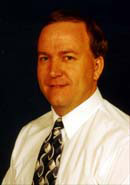 The author of Wooden Shoe: A Brewing Tradition in Ohio's Dutch Country is Anna resident, Tom Homan. Tom is currently the Sales Manager at Lacal Equipment, Inc., in Jackson Center, Ohio.
An avid history buff and collector of all types of memorabilia,
Tom recently served as a Trustee on the Executive Board of the Shelby County Historical Society. Several of the historic images found on this web site are courtesy of Tom. He was also on the board of the Sock & Buskin Community Theatre Group and is a member of the Holy Angels Church.
In addition to being published by the Historical Society, this article appeared in the May-June, 1996, issue of The American Breweriana Journal. The Journal is a bi-monthly magazine produced for the 3,100 members of the American Breweriana Association. This association is a collector's club for all forms of beer advertising. Tom is a collector of Wooden Shoe memorabilia.