Below at left, Police Chief O'Leary is pictured in his office on the 55th anniversary of service to the City of Sidney. January 18, 1949.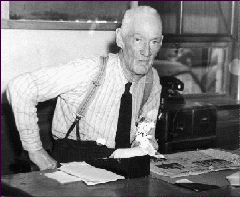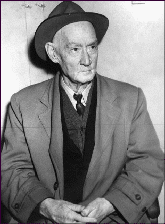 When senseless acts of violence grab the headlines, the reaction by our legislators is to consider the passage of more legislation - both to make penalties stiffer, and to hire more police to make safe the streets of our towns. Although more police officers might be one answer to the problem, many Sidney residents would respond that if all towns had a police chief like William O'Leary, then no additional officers would be needed. This is his story.
Chief William O'Leary served Sidney as a police officer for over 60 years until his death in 1953. He was the police chief in excess of 50 years. "Chief," as everyone used to call him, was born in Franklin Township in 1870. He first worked as a blacksmith apprentice for the Conner Blacksmith shop. It was located just north of the courtsquare. At well over six feet tall and 220 pounds, "Will" O'Leary, as he was known in his youth, was a commanding figure.
With his size and natural strength, O'Leary was attracted to boxing early in life. Bare-fisted "prize fighting" was common on the streets of Sidney and most other small towns in the 1880's. Fighters from Wapak, Lima, Troy and Piqua would journey here regularly. Before the advent of high school football and basketball, boxing was a popular local sport. Many fight cards in those days bore the name of Will O'Leary.
When he started his career as a policeman in 1893, he was both well known and respected because of his pugilistic skills. That reputation, combined with his knowledge of Sidney and its citizens, made him a natural law man. Patrolling by foot over what were mostly unpaved streets with no street lights presented quite a challenge in the early days to the Chief.
The courts viewed certain offenses very differently back then. Conviction for assault and battery usually resulted in a fine of $1 and costs. However, chicken thieves were often fined $500 and given a term on the workhouse. Social problems were different as well. In 1914, the Chief made provisions for putting up 2,478 tramps for the night who were passing through Sidney by train.
O'Leary investigated a number of notorious murders during his time on the force. The killing of shop owner William B. Legg in 1907 attracted attention throughout the state. During his investigation of the case, the Chief had to deal with a mob that was intent on lynching the defendants, Frank Earl and Frank Walker. Always a skillful interrogator, the Chief secured a confession from Earl that resulted in his conviction and subsequent execution. Just a year later, the Chief was involved in another sensational murder investigation when, Dr. Goode. a local physician, was alleged to have killed a roofing contractor working on his home during a dispute over the quality of his work. Dr. Goode disappeared from the area, and his body was found about six months later floating in Lake Loramie.
The Chief would be the first to admit that even during his time, some of the criminals he caught escaped conviction. O'Leary obtained an indictment against Charles Knight for the brutal murder of his wife with a shotgun in 1919. The evidence showed that Knight had beaten her before and had cut her throat on one occasion. The jury found Knight not guilty on June 30, 1919.
Although some convictions escaped him, the "Chief was noted for "getting his man." The Chief boasted he could track a criminal anywhere. He once followed William Johnson of Sidney, who was charged with a burglary at People's Federal Savings and Loan, to Chicago, where it took him just 30 minutes to capture him. Some friends chided him about his reputation, however. Leonard DeWeese once said the Chief "could not track an elephant through fresh snow if the man leading the beast had a bloody nose." Overall, O'Leary was widely known and loved. On numerous occasions when criminals would be released from prison and return to Sidney, they would stop by to inquire how the Chief was. During the Great Depression O'Leary would often look the other way when officials from the railroads would complain that Sidney residents were stealing coal from the cars to heat their homes during the winter.
The Chief was also respected by hobos and tramps who came through Sidney on the trains. He personally made arrangements for the night's lodging on many occasions. After his death, Sam Cole, the king of the hobos, came to Sidney to personally express his sorrow to the O'Leary family. The Chief was fiercely proud of his reputation and the reputation of his police force for integrity. When Glover Flemming, editor of an Ohio newspaper, published an article about the Chief that he considered false, O'Leary filed criminal libel charges. On July 30, 1932 Flemming was found guilty and sentenced to six months in jail by Judge Barnes.
The Chief enforced strict standards of conduct among his men as well. The Chief once suspended Patrolman Kritzer for five days without pay for accepting $5 from John Tecklenberg for helping him after he got into an accident when he fell asleep while driving his horse and buggy in Sidney. Today, some citizens express a lack of confidence in their public officials. The confidence of the community in Chief O'Leary never wavered. It is no wonder: The Chief never took a day of vacation, other than sick leave, and worked seven days a week for sixty years. He never drew his gun or used a blackjack to apprehend a suspect. His treatment of criminals as known around the state to be stern but always fair.
Retirement was never an option for the Chief. When he died in office in 1953, it is believed he had served longer that any other law enforcement officer in US history. He left behind a legacy of service to Sidney unmatched before or since.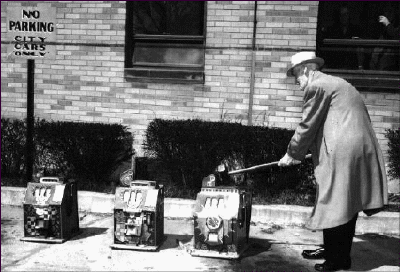 Chief O'Leary takes a sledgehammer and destroys gambling machines pulled from an establishment in Sidney.