The recent purchase of the GreatStone Castle, formerly known as the Whitby Place by Frederick and Judith Keller has brought back many memories for Sidney residents concerning the home itself and the persons who resided there. Perhaps most people would name as its most famous resident
W.H.C. Goode, the industrialist who was the longtime owner of the American Steel Scraper Company and other business interests in Sidney and elsewhere. History, however, tells a different story.
In 1875, a young lady named Ida Haslup graduated from Sidney High School. She then obtained a degree from Illinois Wesleyan University and thereafter returned to Sidney to begin a teaching career at the age of 27.
Haslup taught at the high school for eight years. Toward the end of her tenure there, she became the first female principal of a high school in Ohio when she assumed that position in Sidney in the late 1880's. Afterward she accepted a similar position in Pueblo, Colorado. Haslup returned to Sidney in 1899 and shortly thereafter married W.H.C. Goode, whose first wife had died. Ida promptly assumed the responsibility of raising all five of the Goode children and assisting Mr. Goode with the business at American Steel Scraper Co. as well.
Not content to raise children and help run the family business, Ida Goode later launched a second career of missionary work for the Methodist Church when she was over 60 years old.
| | |
| --- | --- |
| | |
| Ida Haslup Goode | William Henry Collier Goode |
After serving as president of the West Ohio Conference of Women's Home Missionary Society, she became the national president of the Women's Home Missionary Society in 1926. She was responsible for directing the merger of the various missionary activities of the Methodist Church into what became known as the Methodist Women's Society of Christian Service.
She continued to serve as national president of this organization until 1947, when she reached 89 years of age. In her career, Goode supervised mission activities throughout the Western Hemisphere, traveling often to Alaska, Hawaii, the West Indies and many other points in between.
In recognition of her dedicated service over the years, missionary schools in Puerto Rico, Hawaii, Alaska, Kentucky and several other southern states bear her name. A mountain in Alaska is also named after her.
Although she only taught for eight years at Sidney High School, she was so well respected that her former students formed the Ida Goode Association in 1946 in honor of her contributions. The association met on a regular basis for a number of years.
She carried her interest in education into her mission work as well, serving as head of the educational board of the Methodist Church throughout the country for many years. Goode taught the value of community service to members of her family as well. Her stepdaughter Frances Goode graduated from Ohio Wesleyan University and promptly volunteered to drive an ambulance for the YMCA in France during World War I. Goode's outstanding record of public service was recognized across the nation. In 1938, at the age of 80, she received she received an honorary doctorate from Ohio Wesleyan. Similar honors were bestowed on her from Bennett College in 1940 and Illinois Wesleyan University in 1942.
As a member of its board of trustees, Ida Goode was also a major force behind the growth of Bennett College, a university located in North Carolina that focused on educating Negro women. She supervised its growth over 14 years from 10 students to an enrollment in 1940 of 350. In awarding her the honorary doctorate degree at that time, President David Jones described Ida as a "courageous statesman-like leader of women throughout the difficult period in the history of her church, a broad-visioned counselor and co-founder of a college for women, wise mother, constructive citizen and unfailing friend."
Locally, she organized the Shelby County Women's Club and was one of the first members of the New Century Club. Well into her 90's, Ida Goode once gave a book review to the members of the New Century Club after she had completely lost her eyesight.
After the death of W.H.C. Goode, she took over operational control of the American Steel Scraper Co. and ran it successfully for a number of years. Until the month before her death in 1958, Goode attended Sunday school and church at the Methodist Church on a weekly basis. She died quietly in her 99th year, leaving behind an unmatched legacy of community service.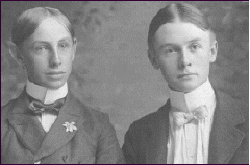 Above are Frank and Charles, two of Mr. Goode's four sons. His youngest boy passed away at 18 months
and his eldest daughter did not survive beyond her early 20's.