Frederick Douglass
Orator and Abolitionist (1817?-1895)

"Prejudice against color is stronger North than South. It hangs around my neck like a heavy weight."
Frederick Bailey was born into slavery, circa 1817, in Tuckahoe, Maryland, the son of a slave mother, Harriet Bailey, and a white man. The cruel, inhumane, treatment of blacks as slaves during his early years instilled in him a passion to the abolitionist cause that would influence his entire life. Failing in an attempt to escape to the North in 1836,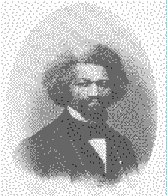 he eventually gained freedom two years later when he fled to New Bedford, Massachusetts, changing his name to Frederick Douglass. In 1838 he married Anna Murray, a free colored woman whom he had met in Baltimore.
His career as an anti-slavery advocate began in 1841 in an impromptu speech to the attendees at an anti-slavery convention. His eloquence and stylish oratory as, "a recent graduate from the institution of slavery with his diploma on his back," caused the Massachusetts Anti-Slavery Society to employ him as one of their agents. His speeches in the northern states and his diligent national work for the Underground Railroad, made him a beacon of hope for his brothers still enslaved in the South. He served as the "station master and conductor" for the Railroad in Rochester, New York.
His association and friendship with the abolitionist, John Brown, was severed permanently when Douglass objected to Brown's forthcoming attack on the federal arsenal at Harper's Ferry. He failed to convince Brown that such action was an assault on the U.S. government would have disastrous consequences, and the raid on the arsenal proceeded without Douglass' complicity or support.
After the Harper's Ferry attack, even though he was not involved, fearing reprisals, he fled to Europe returning six months later to campaign for Abraham Lincoln in the 1860 presidential election. After the Civil War, he fought tirelessly for the enactment of the 13th, 14th and 15th Amendments to the Constitution. He went on to become a U.S. Marshall for Washington D.C. (1877-81), recorder of deeds for D.C. (1881-86), and U.S. Minister to the Republic of Haiti (1889-91). Douglass was a tireless proponent of equal rights. In one instance, he had to be dragged bodily from a 'whites only' railroad car in Massachusetts. He tore the seat out with him. Repeatedly beaten by mobs at various appearances, Douglass is recognized as one of the greatest African-American orators of all time.
'Black History' segment written in June, 1998 by David Lodge