John Randolph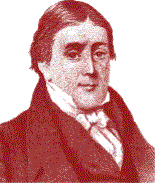 John Randolph (1773-1833) - Politician
John Randolph, American politician and statesman, was born into great wealth, in Cawsons, Virginia. In an article by Rich Wallace (local historian) and James P. Humphrey that appeared in "The Sidney Daily News", February 26, 1997, they preface their article on the Randolph slaves with the following comments on the slaves' benefactor.
This true tale (Randolph slaves) begins with a most interesting white plantation owner in Virginia. Historian Russell Kirk described him as "a radical man yet a political conservative" with "alternating ferocity and compassion, his duels, his beautiful letters...his fits of madness...his brandy and opium...his passionate Christianity, his lonely plantation life, and his quixotic opposition to the great political and economic powers of the day."
Kirk was describing the man who would unknowingly contribute to the cultural richness Sidney enjoys today. John Randolph of Roanoke was a member of perhaps the most powerful family in the South from the late 1700s until at least the Civil War. He had served as the legislative leader in the Virginia Assembly for his cousin, Thomas Jefferson. History records that he ruled the Assembly with an iron hand —and a whip. He was the unquestioned master of a string of plantations in the Tidewater area of Virginia.
Jonathan Daniels, in his book "The Randolphs of Virginia" described the family as "America's foremost family," and Randolph as an orator and businessman "with few peers." Although he competed stride for stride with other members of the Virginia aristocracy by amassing over 8,000 acres of land and 400 slaves, John Randolph had doubts all of his life about the morality of the use of slaves. He was one of the first plantation owners to recognize the benefits of educating his slaves and treating them as humanely as possible. According to Helen Gilmore, after inheriting his plantation, he never sold or bought additional slaves.
Randolph personally taught many of them to read and write. He also organized them into groups and gave them separate tracts of land for which they were to be responsible - an unusual approach in those days. Economic expediency compelled him to accept slavery as a fact of life while he lived, although he continually spoke against its evils. John Randolph never married. He battled the effects of tuberculosis all his life, and the use of Opium (legal at the time*) as a pain killer resulted in his addiction to the substance. * Opium importation was banned by Congress in 1909 for anything but medicinal purposes. Opium derivatives are widely used in codeine and morphine.
'Black History' segment written in June, 1998 by David Lodge