Randolph Slave Settlement
Rossville originally occupied the land north of the Great Miami River on both sides of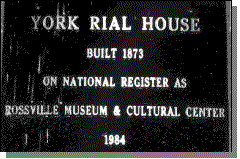 County Road 25A. Today, the last vestiges of Rossville are still north of the river, and centered around Zimmerlin Road which intersects with 25A. Helen Gilmore, Piqua historian, maintains the Rossville Museum and African-American Cultural Center, 8250 McFarland Street, situated on the site (pictured at top right). [It is open M-Fr., 1-7 p.m., weekends by appointment. Call 937-773-6789]. Displays portray African-American history in the Rossville/Piqua area, the nation and the continent of Africa. The museum building is the original York Rial (Randolph slave, ancestor of Helen Gilmore) home listed on the National Register of Historic Places. Added in December, 1986, it was one of the first black residences to be listed on the Register.
York Rial and Joseph Moton spearheaded the effort in 1907 that eventually included 27 cases where nearly 170 of the remaining black heirs brought suit to recover the cash or land that John Randolph originally willed them. After a 10 year battle, with an appeal to the Ohio Supreme Court and the United States Supreme Court, the Mercer County Court of Common Pleas found in Joseph Moton et al. v. Gerhard Kessnes that Ohio's 21 year statute of limitations barred the black's recovery. Two higher courts let the opinion stand. York Rial perished in the flood of 1913.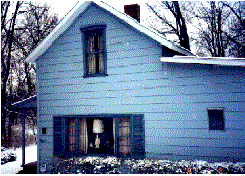 Also located on the site is the (African) Jackson Cemetery that began with the freed slaves arrival in the area and their establishment of Rossville. The Randolph slaves bought land from William and Freelove McFarland. It was initially called the African Cemetery, then later Jackson Cemetery. Of the 120 buried there, 9 men served in the Civil War.
The houses in Rossville were built on the same order as the slave's houses in Roanoke, Virginia, on the John Randolph plantation. Rossville is the only surviving settlement of the three that were formed in the area by the Randolph slaves. The other two, Hanktown (near West Milton), and

Marshall Town (near Troy) have long sincedisappeared, making the preservation of the Rossville Historic District and its listing on the National Register of Historic Places a priority of historic importance to Helen Gilmore and her supporters. The Rossville Springcreek Historical Society, Inc., was formed in 1978 by Helen Gilmore and Florence Scott.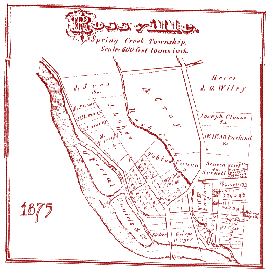 'Black History' segment written in June, 1998 by David Lodge