Medicine in the Civil War
Because the Civil War was fought on a scale unprecedented in American history, the techniques of medicine that are taken for granted today had not yet been developed. This problem, coupled with the fact that knowledge of the proper treatment of such diseases as dysentery, typhoid, measles, and other communicable diseases at that time was limited at best, made the prospect of getting wounded or sick a hazard the average soldier greatly feared. Numerous local soldiers contracted such diseases. Salem township farmer Aaron Morgan (shown below) of the 118th Ohio died of typhoid.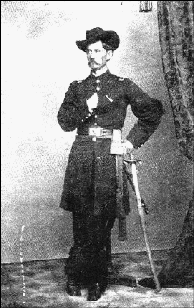 Aaron Morgan
Probably as a result of sleeping outside with little protection from the elements, Sgt. Dwight became seriously ill. It was a problem many men experienced. The most common affliction was named 'camp fever' by the men. With the rivers and ground polluted by constant use by armies of 100,000 men and thousands of horses, cleanliness was next to impossible. Pemberton resident Jeremiah Ray perished from it while with the 134th Ohio in August, 1864. Dr. Albert Wilson of Sidney reported on this problem in a letter home on December 21, 1861: "Our troops have been rather sickly and many of them have died. In our hospital most of the cases are a form of fever we have named camp fever because of its great prevalence in our camps."
When a soldier became sick, the prevailing notion was that his 'fluids were out of balance.' The practice of cutting into the affected area and allowing it to bleed was commonplace. A doctor would lance the man's vein with a device called a 'fleam' and drain off a pint or two of blood. Leaches were also commonly used. Sanitary conditions in the camps were intolerable by today's standards, thus further complicating the healing process. An unfortunate example of this was 99th Ohio soldier Joseph Delap, a carpenter by trade and resident of Clinton township before the war. He died from drinking contaminated tap water in camp.
Battlefield wounds, unless they were very minor, brought the soldier face to face with the dreaded surgeon. (Even minor wounds were often fatal. Swanders resident John Swander was shot in the wrist at Stones River, dying later of the wound.) The large size of the projectiles fired by the guns used in the war commonly shattered bones after entering the flesh of the victim. After a typical battle, an average staff of 8 to 10 doctors had to operate on anywhere between 200 and 2,000 wounded men. Amputation was usually the answer. The operation (with little anesthetic) would take between 4 and 10 minutes.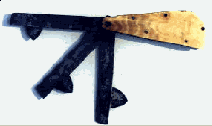 At left is a three-blade fleam owned by Eldred Kipp, Sr., of Botkins, Ohio. Fleams were also made with spring devices that automatically thrust the knife into the vein upon release.
Prosthetic or wooden foot used by an amputee after the Civil War. Many types of artificial arms and legs were patented during the late 1860s and 1870s. From "Pictorial Encyclopedia of Civil War Medicinal Instrument and Equipment, Vol. II" by Dr. Gordon Dammann.
John Humphrey left his Lockington home and his job as a mechanic to join the 50th Oh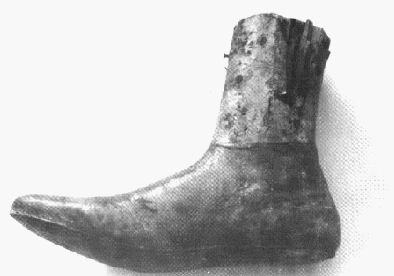 io. At the Battle of Marietta, Georgia, he received a wound to the lower right thigh. The surgeon amputated his right leg. He died the same day. Shelby County, Ohio farmer John Proctor received the same wound in the Battle of Cold Harbor on June 1, 1864. His right leg was also amputated. He never recovered, dying on August 12, 1864. Civil War veteran Sam Gish survived the war, and returned to Pemberton. Current county resident Russ Sayre recalls Gish, "Sam lost a leg at Antietam, and was always proud of it."
An interesting historical note involving the first amputation performed in the war involved men from Sidney. The first engagement following the fall of Fort Sumter was the Battle of Phillipi, West Virginia, on June 3, 1861. The 15th Ohio participated, including many soldiers from Sidney. A Confederate soldier received a serious leg wound, and the leg was amputated by Dr. J. D. Robison. Dr. Robison's son was a Sidney resident. The cannon ball which struck the soldier was recovered by Sidney soldiers Joseph Laughlin, A. O. Waucop, Jasper Nutt, and DeWitt Haleman, who brought it home. A "Sidney Journal" article on July 3, 1896, noted the ball was still on display in the Monumental Building.
Some men feared surviving an amputation more than dying in battle. Sgt. Oldroyd of the 20th Ohio commented in his diary on June 12, 1863: "I have heard many a one say he would rather be shot dead in a fight than lose a limb, and thus be compelled to totter through life disabled. But I know our country will be too magnanimous to neglect its brave defenders who have fought its battles..."
'Civil War' segment written in July, 1998 by Rich Wallace