Squirrel Hunters
August 30, 1862, saw the defeat of a 7,000 man Union force at Richmond, Kentucky. The question that spread across Ohio was, would Confederate General Kirby Smith continue his drive north and invade Cincinnati? Two days later Ohio Governor David Tod issued a proclamation to all Ohioans: "Our southern border is threatened with invasion. I...therefore recommend that all the loyal men of your counties at once form themselves into military companies. Gather up all the arms in the county and furnish yourselves with ammunition for the same."
Within a few days, over 15,000 armed 'militia men' descended on Cincinnati to tangle with the rebels. Homespun buckskin clothing was a common sight, as were an assortment of weapons most men used to hunt squirrels. A Confederate scout apparently returned to his commander with a reconnaissance report on these unconventional soldiers. "They call them 'Squirrel shooters'; farm boys that never have to shoot at the same squirrel twice."
David Baker was a typical Shelby County volunteer Squirrel Hunter. He was 35 years old and a Salem Township farmer in 1862. Unmarried, he immediately left his crops in the field and traveled to the Queen City.
For about two weeks, military authorities tried to make soldiers of this independent lot. Finally, the rebel threat passed. General Smith wrote to General Lew Wallace in Cincinnati on September 17. "Reports from the front state that the enemy are in full retreat...Cannot I get rid of the Squirrel hunters? They are under no control."
After a grand parade, the men were free to return to their homes, without getting a taste of battle. All were given a discharge certificate, and the sum of $13 (a month's pay).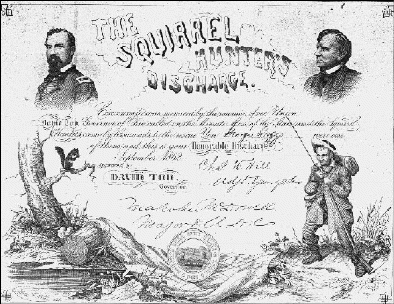 'Civil War' segment written in July, 1998 by Rich Wallace