Ohio Becomes a State
On March 1, 1803, the state of Ohio became the first state to be admitted to the Union from the Northwest Territory. In the 1800s, the rich soil of Ohio known as the 'Till Plains' (eastern portion of the great corn belt that extends through the other Midwestern states) covered most of western Ohio, attracting many European farmers to leave their homeland. This region, which includes Shelby County, is one of the most fertile areas in the country.
Ohio's statehood, combined with its productive soil, further improved its appeal as a place to live and work. In the early 1800s, states did not leave settlement to chance or 'word of mouth'; with many placing advertisements in European newspapers to induce individuals to emigrate. These ads promised inexpensive land and plenty of opportunities for employment.
The new state of Ohio became the destination of many immigrants to America. With the later development of roads, canals and railways, Ohio became an important link to the west for those who wanted to settle lands beyond its boundaries. Because of this, Ohio was referred to as 'The Gateway State.'
In the 17th and 18th centuries, the control over the admission of newcomers was mainly in the hands of individual colonies who were interested in attracting settlers to virgin territories. Other than establishing residency requirements for citizenship, the government basically left the rest up to the individual states, who wanted only to attract more people. Even though land was inexpensive and fertile in Ohio, there were many immigrants that were simply too poor to move inland and settled near the port of entry on the east or west coast of the United States. Their children or grandchildren, second and third generation immigrants, would be the ones to travel further into the newly developing territories, eventually settling in Shelby County.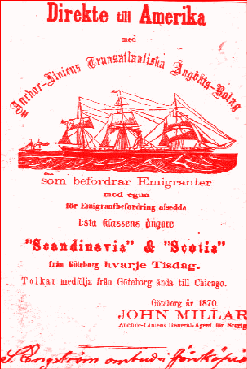 'Immigration' segment written in November, 1997 by David Lodge