German-American Bank is Formed
As business and industry prospered in the county, the First National Bank was chartered in 1864. Charles Weaver joined the bank in 1868 and John Wagner around 1869. Both quit the First National in 1875 to work together in the formation of the German American Bank. (John Wagner was of German heritage).
The new bank was very popular, particularly amongst German immigrants and those of German descent. One can imagine their dismay upon reading the large headlines in "The Shelby County Democrat" newspaper of Friday, August 26, 1904, which reported, 'Bank Closed. The German American Bank failed to open its doors for business Wednesday morning. W.H. C . Goode appointed receiver.' The Democrat also reported, "It is very well understood that the bank had a large number of depositors, most of whom placed their money there on account of the confidence in the bank officials and the liberal interest paid to time depositors."
Friday, October 28, 1904, the Democrat headlines read, "BANK REPORT. The report of the Expert Examiner Shows a Cash Shortage of $231,677.57. Instead of a surplus of $109,000 as represented by the Bank there is a deficit of $250,390.06. Overdrafts amount is $158,790.03. Bank insolvent ten years but dividends of $60,000 paid in that time. No directors meeting since 1896. Liabilities $806,771.73 but may be reduced to $725,000..."
Many of the bank's original directors had died or retired and it appears that a number of board positions had remained unfilled. According to the newspaper, "the officials of the bank well knew that this condition existed for months, yet in the face of this knowledge, they took money from depositors up to the very last moment before closing the doors, and went out and had checks and drafts cashed that they had taken in that day. They also went out and solicited deposits when they well knew there was no possibility of paying them if the deposits were made."
Since the institution was privately held, the stockholders were responsible for the bank's debts. Examiners would look over the books for weeks, finding numerous discrepancies. The receiver took immediate possession of the bank assets and Frank D. Reed's (the cashier) Cottage at Orchard Island. The newspaper printed to the last penny the appraiser's evaluations of the estates of Frank and Mary Reed as well as Bank President, John Wagner and officer, Peter Wagner. Other area banks assured its customers that the fate of the German American Bank would have no effect on their own deposits. The German-American Bank's failure was the subject of contentious discussion within Sidney and Shelby County, Ohio, for many years.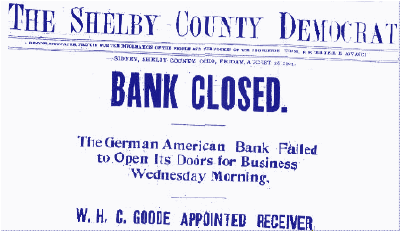 'Immigration' segment written in November, 1997 by David Lodge