Port of Entry
In the early years, Philadelphia was the major port of entry for immigration, however, the mid 19th century saw the increased use of New York City as a clearing house for newly arrived immigrants who came over on large ships. The country's first immigration station, opened in 1855, was Castle Garden in New York City. It continued to operate until 1890 when its doors closed after processing over 10 million immigrants to the U.S.
Ellis Island, the most famous of these facilities (other stations existed, but Ellis processed about 90% of the immigrants entering the U.S.), located off Manhattan Island, served as a station from 1892 to 1954. Up to 12 million people, from all over the world, passed through Ellis Island. Two percent of the immigrants, for various reasons, were returned to their native lands.
Prior to 1855, ships would just leave the passengers at wharves, to fend for themselves. Many were conned or robbed by thieves and thugs who were waiting on the docks to greet them, taking what little money they had left after the journey. An immigrant's poor understanding of the English language made them an even easier target.
There was also a fear of diseases that new immigrant's might bring with them so they were often shunned upon their arrival. The establishment of an Immigrant Receiving Center at Castle Garden/Ellis Island not only enabled the U.S. Government to keep better track of its immigrants, but allowed physicians to give routine checkups and physicals to ensure that the immigrants were healthy. Later, these travelers would also need documents of citizenship from their 'mother country' and be deemed by examiners to be 'mentally fit' to live and work in the United States.
The men and women who came to the U.S. were as different as the nations from which they arrived. The young and the elderly, entire families, and single men and women. Most were no more than thirty years old. While America promised opportunity and freedom to these immigrants, the newcomers in turn, offered much-needed labor to the country, allowing the United States to eventually become the greatest industrial power in the world.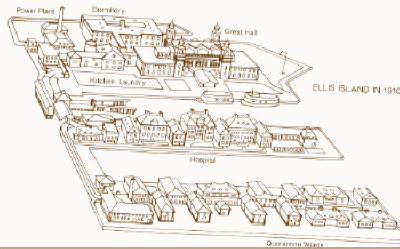 'Immigration' segment written in November, 1997 by David Lodge