The War of 1812
It was June 1812, and the American government declared war on Great Britain. The war would last until the Treaty of Ghent settled it on December 24, 1814. Although the treaty settled the dispute between the two sides, both unknowingly fought on in the Battle of New Orleans on January 8, 1815. The American defenders won with a loss of only seventy men; with British deaths exceeding 2,000. The soldiers that survived returned to England in time to fight at the Battle of Waterloo, against Napoleon, June 18, 1815. None of the issues that precipitated the War of 1812 were resolved, however, it did leave the country with a high level of unity; allowed the Federal government to exercise more control over national life and ended European influence in American politics.
Tecumseh took advantage of the war by allying the Shawnee, Miami and other Great Lakes tribes to the British cause. The Ohio Valley and the rest of the Northwest Territory were battlegrounds once again in a fight between the British and Americans, with the Indians right in the middle of it. Tecumseh led his warriors brilliantly; capturing the American forts at Detroit and Dearborn. Other American forts fell. Tecumseh was given the rank of Brigadier General. Within months, the Shawnee were joined by warriors from over 30 different Indian nations, and, with a force of 2,000 warriors, Tecumseh wreaked havoc in the region.
On September 13, 1813, at the conclusion of the Battle of Lake Erie, the British had lost, starting a retreat to Canada and causing Midwest supply routes to be severed. Tecumseh failed in his effort to convince the British to stay and support his cause against American advancement; reconciling himself to standing alone against the American enemy. He was able, however, to convince the British commander to make a stand on October 5, 1813, with the Indians at the Thames River in Ontario, against Harrison's approaching force of 3,500 men.
Removing his British officer uniform coat, he donned Shawnee attire to stand against the Americans even after the British retreated. No one knows from whence the fatal shot came; many, over the years, have taken credit for killing the great Tecumseh. His lifeless body disappeared; buried in haste, secretly, by his loyal followers.
'Indian' segment written in December, 1997 by David Lodge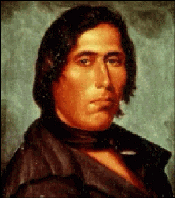 Tecumseh - The Shooting Star