One of the key members who helped reorganize the Shelby County Historical Society seven years ago and develop the award-winning JUST FOR KIDS program, Sherrie Casad-Lodge has been active in the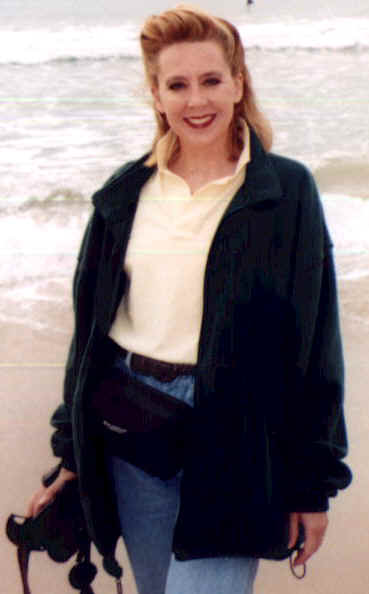 local community for some time.
A twelve year member of the Sock & Buskin Community Theatre group, she and her husband were selected in 1997 to receive their 'Friends of the Arts' achievement award which recognized their support of the arts in Shelby County.
In January, 1998, she received a "Meritorious Service' award from the Shelby County Historical Society "marking [her] long and expert service to history education in this county." In addition to serving as the Society's first newsletter editor, Sherrie authored two of the Society's teacher's guides covering the topics of Sidney's Downtown and Pioneers.
Sherrie and her husband, David, regularly portray turn-of-the-century living history characters, GreatStone Castle owners, W.H.C. and Ida Goode. To date, they have guided more than 3,000 visitors through the castle. The Lodges partnered in December, 1999, to produce "It's History to Keep," a 52-page booklet documenting the history of 15 historical structures in Sidney. This booklet was produced in conjunction with the Gateway Arts Council's "Christmas in Historic Sidney" event.
Sherrie has received nearly a dozen awards from the Ohio Historical Society and Ohio Community Theatre Association, recognizing her excellent work in the fields of newsletter writing, marketing/PR and historical programming. Most recently, Sherrie co-produced the Historical Society's spring 2000 exhibit on W.W. II.
A MBA graduate of the Xavier University in Cincinnati, she is currently self-employed, running her own company, CL Communications, which specializes in marketing publications and web site design. In 1996, Sherrie created the Society's web site and she maintained the 1,100 page site until July, 2000.