Members of the Gold Star Mothers unveil a new plaque that was placed at the site of the new Gold Star Mothers Bridge
on County Road 25A at the south edge of Sidney. Photo by Tony Furbee of The Sidney Daily News, Nov., 12, 1999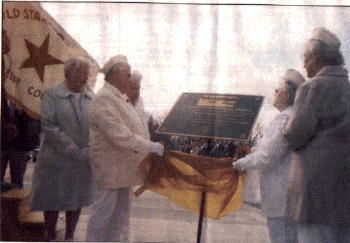 The Gold Star Mothers Bridge, once again spanning the Miami River south of Sidney on county road 25-A, will be rededicated at a public ceremony on Nov. 11, 1999. Historical Society members are encouraged to honor the Gold Star Mothers by attending the ceremony following the Veterans Day observance on the Courtsquare.
The new bridge and its predecessor honor members of the Gold Star Mothers organization, made up of mothers who have lost sons and daughters in the service of their country. The latest structure replaces a bridge built in 1933 on a 7-percent grade. "That was the first bridge in the State of Ohio to be built on that steep of a grade," according to Shelby County Engineer Bob Geuy. The original Gold Star Mothers bridge was dedicated on Aug. 23, 1933, when close to 6,000 people attended the ceremonies led by the Sidney American Legion.
The rededication ceremony, sponsored by the Shelby County Historical Society and the Shelby County Engineer's Office, will feature a ribbon cutting ceremony and the placing of a new plaque next to the bridge. The original plaque will also be reinstalled. It reads: "Dedicated to the Gold Star Mothers of Shelby county, 1933."
Speakers will include Gold Star Mothers official Dorothy Locker, Historical Society president Rich Wallace, and County Engineer Geuy. Locker will review the history of the Gold Star Mothers while Wallace will speak on the history of the bridge. The 1933 ceremony procession was led from the Courtsquare to the bridge by a motorcycle patrol. The Piqua Drum Corps, Shelby County band, Sidney American Legion Glee Club, and Sidney Merchants Band furnished music.
A state official of the American Legion, addressing the crowd in 1933, noted that "The suffering of war is not all on the battlefield. These mothers have no armistice."