Feature Article on Rosa Phillips. Topic: PEOPLE & ENTERTAINMENT
Written by Jim Sayre in October, 1998
MEDICINE SHOWS, VAUDEVILLE...STARRING ROSA AND EDDIE PHILLIPS!

Shelby County's direct connection to vaudeville, minstrel performances, and traveling medicine-man shows began in the mid-twenties when Rosa Bertsch, a country girl with a big musical talent, quite by accident got a temporary job as a medicine-show piano player.

It was 1925. Rosa was visiting her brother Fred and his family in Anna. Harter's Medicine Show was playing in the theater on the second floor of the town hall. The piano player was called home due to family sickness, so Rosa got a call to fill in. She played for Harter's show for one week in Anna until their piano player came back. "But it was love at first sight for Eddie Phillips, Harter's best and only vaudeville entertainer," Rosa says.

Rosa, now 94 and living in Anna, was raised on a farm north of Sidney. She married her "Medicine-Show Man," Eddie Phillips, in 1927 and joined his musical life on the road. They played medicine shows, vaudeville, small circuses, and minstrels throughout Ohio, Michigan, Pennsylvania, and Indiana. Rosa played the piano continuously during the medicine "pitch." The theory was to never leave the audience cold. Rose played softly at times so as to not drown out the speakers, especially the pitchman who did the selling. Then louder and faster to stir up excitement and the desire to get into the act, especially the act of buying!

Eddie sang and told stories. He played guitar, banjo, violin, and the "saws." Not content with conventional instruments, Eddie invented new ones. He made his "funnels" from, naturally, funnels in which he inserted reeds. Eddie even composed a piece of music for his funnels.

Rosa and her husband, Eddie along with several musical instruments are pictured above. Below, Rosa's Wooden Shoe Song and Waltz Clog loudly caught the attention of the audience with these wooden shoes.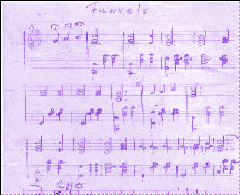 Eddie composed 'original music' for his unique instruments.
"Throw it out there!" This was Eddie's advice to Rosa from behind the curtains when she wasn't speaking loudly enough. Early in show business Eddie had learned how to use his voice properly. "He had a beautiful voice," Rosa remembers. Eddie was good at extemporaneous speaking. "A medicine show was a good place for a person to learn how to play to the audience...better training than stage acting," Rosa says. "Red Skelton began his career in a medicine show."
Rosa still has Eddie's musical instruments stashed away in her home. The violin, saws, banjo, funnels, the stringed horn hybrid instrument have been silent for close to 40 years. But, she made them available for others to see in the October, 1998, library exhibit.
Writing her memoirs, Rosa remembers some of the old minstrel gags: Interlocutor: "I was reading in the paper this evening that suits were now being made of paper. Do you think that paper can be used effectively in keeping a person warm? End Man: I sure does. I had a thirty-day note that once kept me in a sweat for months!" Eddie had a trailer made for them to live in while they traveled the one-night shows. "He had it made of pressed wood so that it would be sturdy enough to take the mountains when pulled by our Peerless," Rosa said.
Rosa and Eddie finally settled in Anna, Eddie becoming a salesman with a musical difference. Many remember the Phillips' minstrel shows at community functions and special Saturday night "street" performances. Eddie organized Anna merchants to put these shows on to draw the buying public to town...reprising his vaudeville days.
Rosa played the piano for many years at St. Jacob Lutheran church in Anna. She played with some pep and even played while the children marched in and out of the sanctuary. "Remember...never leave the audience cold," she cautions. She says she could play the piano still if it weren't for her crooked left arm which came from a break that was never set. She can hear the music in her mind and feel the thrill of tickling the ivories. Some balance problems and arthritis, but other than that... "I am in fine shape," she says. "It's just a state of mind."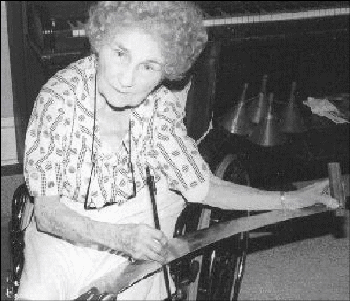 Rosa Phillips, at 94 years old and recently demonstrating the musical saw, holds firmly
and fondly to memories of Eddie and their medicine-show/vaudeville days together.
Eddie, born to medicine-show parents, possibly when they were on the road in Ohio, died on his 62nd birthday in 1963. Now confined to a wheelchair, Rosa Bertsch Phillips can, nonetheless, still mentally play the music and dance the tune. Always a lady of style, she says, "I think I'll wear a hat and gloves when I make my final exit."