Sir Philip Sidney
Although it was a noble gesture on the part of the donor to give 70 acres for the establishment of a new town, it was also a shrewd business plan since land cultivating corn fetched a price of $8 an acre in 1820 (a 70 acre sale would realize $560), while Charles Starrett's share from the sale of lots brought him more than $3,000.
By 1820, the population of Shelby County was comprised of many American citizens from Kentucky, Virginia and states to the east (many of these individuals were of British descent), and immigrants from England, Ireland, Scotland, Wales and a few Germans and French who were either here prior to the War of 1812 or arrived after its conclusion.
The naming of the county after General Isaac Shelby has its basis in the large complement of Kentuckians living in the area at that time. Over the years, Ohio would continue to be a favorite destination for Kentuckians seeking employment and a better life for their families.
The new town was named Sidney, after Sir Philip Sidney, an English soldier, statesmen, patriot, writer and member of parliament. The first plat of Sidney was filed on February 24, 1820, and with the county recorder on April 18, 1820. Even the naming of Sidney, after Sir Philip who died a war hero in 1586, (shown below), arises from the influence of the many British immigrants who lived in this area.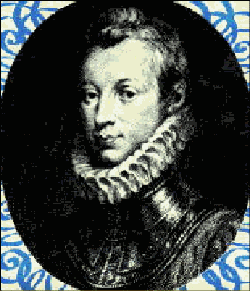 Sir Philip Sidney

'Immigration' segment written in November, 1997 by David Lodge