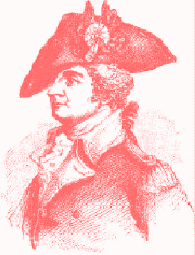 General 'Mad' Anthony Wayne
General Anthony Wayne
The next military general to take on the Miami, Shawnee and other Great Lakes tribes, was General "Mad" (a term his men used) Anthony Wayne. America's military attempt to secure the region had resulted in the construction of many forts, including: Ft. Greene Ville, 1793; Ft. Recovery 1793 (built on the site of St. Clair's massacre); Ft. Piqua, 1795, and Ft. Loramie in Shelby County, Ohio, 1795. All four forts were built by Wayne.
In 1794, Wayne, with a force of 2,000 well-trained men, 1,000 Kentucky sharpshooters, and a group of Chickasaw and Choctaw scouts prepared to move north. Before his army left Fort Washington, a force of 2,500 coalition Indians, led by Little Turtle, Blue Jacket, and obvious 'Redcoats", were beaten and repulsed in an attack on Fort Recovery, June 30, 1794.
Although the Americans suffered an early loss of 50 riflemen outside the stockade, the fort proved, in two days of battle, to be an impenetrable defense, resulting in the coalition's first loss in the war now known as Little Turtle's War. Following the defeat, Little Turtle felt it was time to talk peace.
Anthony Wayne Parkway
On November 4, 1947, Oliver Amos, managing editor of the "Sidney Daily News" was named by Governor Thomas J. Herbert to serve on the 11-man Anthony Wayne Parkway board created by the 97th General Assembly. This board planned and supervised the development of the Parkway in those counties of Ohio traversed by the military expeditions of General Anthony Wayne. From Cincinnati, Ohio, to Fort Wayne, Indiana, signs can be found along State Route 127, State Route 49 and US Route 33.
'Indian' segment written in December, 1997 by David Lodge