Chief Cornstalk
Cornstalk, born Wynepuechsika, circa 1720 in western Pennsylvania, moved with his family to Ohio in 1730. He fought with the French in The French and Indian War (1754-1763) against the British. He continued to battle settler encroachment into Ohio and at the Battle of Point Pleasant in 1774 both sides suffered heavy losses and the Indians retreated; signing the peace Treaty of Chillicothe in late 1774, promising not to attack settlers south of the Ohio River.
The confrontations continued, and in 1777, Cornstalk and a small group of Indians traveled to Point Pleasant to discuss stricter enforcement of the peace treaty. The whites, now in rebellion against the British, imprisoned the peace party. On November 10, a small group of militiamen stormed the jail, to avenge the killing of a white man by other Indians, and executed Cornstalk and his son.
According to local folklore, Point Pleasant has seen its share of devastating floods and fires, some attribute it to the dying curse of the great Shawnee chieftain, Cornstalk.
'Indian' segment written in December, 1997 by David Lodge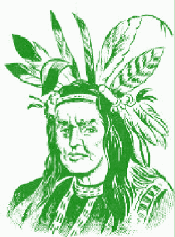 Chief Cornstalk