John Wagner Sons' Brewing Company
A fascinating but almost forgotten chapter in the industrial history of this community involves several businesses that catered to the personal cravings of customers both here and around the world.
John Wagner came to Sidney, Ohio, from Columbiana County in 1859 to pursue the trade of a candle maker. He was the brother of Mathias Wagner, the father of the four men who founded Wagner Manufacturing Company and many other businesses in Sidney. Mr. Wagner's interest lay in the brewery business. A year later, he bought into a brewery in Sidney owned by his brother, Joseph. John Wagner bought out his brother in 1876. He renamed the enterprise the John Wagner Brewery, and "commenced enlarging the works and preparing for the manufacture of lager beer," according to Sutton's history of Shelby County.
Mr. Wagner died five years later, but his sons, Henry, Edward, and Louis continued and expanded the operation. Then known as the John Wagner Sons' Brewing Company, it produced Golden Pilsner Lager and Pale American Export beer. The plant had a capacity to produce 28,000 barrels of beer a year by 1912. The flood of 1913 substantially damaged the business. The fortunes of the company followed America's love-hate relationship with alcohol. With the passage of the Eighteenth Amendment and the advent of Prohibition in 1920, the company began producing soft drinks such as ginger ale and club soda, along with a nonalcoholic product known as 'near beer'. The company name was changed to the Wagner Beverage Company.
The business was rebuilt after a bad fire on November 24, 1931, and flourished again with the repeal of Prohibition in 1933. Within five years, however, business fortunes turned for the worse, and a court-appointed receiver took over the company, ending almost eight decades of brewing activity. The plant was located behind Central School on Poplar Street. The stone blocks of the brewery can still be seen east of the school's playground. The last of the buildings was demolished in 1996.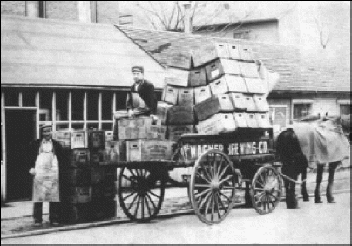 Industry segment written in January, 1998 by Rich Wallace