Mathias Wagner Family
Perhaps no other family had a greater impact on the development of Sidney. Mr. Wagner was born in Germany, and immigrated here in 1838. He worked on the construction of the canal in Shelby County for awhile, and then began raising steers/hogs to feed the men who labored on the canal. Mr. Wagner invested his profits in Sidney real estate, and soon was the wealthiest man in the town. His marriage to Mary Rauth produced twelve children. Hitchcock's "History of Shelby County" describes the family as follows: "Perfect harmony existed among the children, for there is no black sheep in the flock and today they work together like parts of a flawless machine."
Mathias operated a farm and managed his investment properties in Sidney. He purchased and substantially enlarged a hotel on the corner of Poplar and Ohio in 1863, calling it the Wagner Hotel. It was the finest hotel in town and the scene of most major community banquets for many decades.
Brothers Milton and Bernard (pictured below) began in the cookware business as a partnership in the early 1880s. In the years that followed, brothers William and Louis joined them. They subsequently incorporated the Wagner Manufacturing Company in 1891. These men purchased the Sidney Hollow Ware business of Philip Smith in 1897. An extensive discussion of the history of the Wagner Manufacturing Company may be found in Hitchcock's "History of Shelby County" (page 188).
Bernard Wagner had other interests as well. He founded Wagner Park Nursery Company. It was located on Park Street in the vicinity of Longfellow School. The nursery was nationally known, and helped popularize landscape gardening. He platted many additions to the city, including the South Ohio - Crescent Drive area, and the Bon Air subdivision of Sidney. He was also instrumental in developing several of the parks in Sidney. Mr. Wagner invented and patented a cash register that was eventually sold to an agent for John Patterson, the founder of National Cash Register Company in Dayton.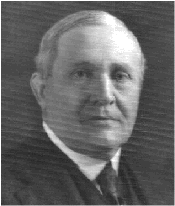 William Wagner initially was engaged in the family hardware business. He was one of the founders of Wagner Manufacturing Company, and was its first president. Mr. Wagner was also active in the financial and industrial community, where he was involved with the First National Exchange Bank, Monarch Machine Tool Company, The Sidney Telephone Company, and the Sidney Machine Tool Company.
Milton and Louis Wagner confined their interests to managing the Wagner Manufacturing Company. Another sibling, Ida, married I. H. Thedieck, who was the founder of Monarch Machine Tool Company, and another powerful industrialist in Sidney. Further information on the Wagner family is available in Hitchcock's "History of Shelby County".
Industry segment written in January, 1998 by Rich Wallace