Candy Makers
Sidney also became an epicenter of the candy industry in Ohio. It all started when Charles Hickok opened a fruit and vegetable stand downtown in the 1880s. He had begun to experiment in the confectionery business by 1895. Making chocolate candy was his specialty. By 1900, Hickok Candy Company had expanded to a new 50,000 square foot location at 227 West Poplar Street, on what is now the parking lot to the west of the city building. Its products included 'Hickok chips'- an oblong, chocolate covered candy, other assorted chocolates, marshmallows, hard candies such as caramels, and 'maple chews'. According to "Memoirs", "...during WW1, the company gave government orders preference and tons upon tons of Hickok candies went to the boys in khaki."
As was the case in other industries, success in the candy business bred local competition. Evans Johnson began making hand-dipped chocolate candies in his home at 729 Crescent Drive in 1919. Mr. Johnson purchased the assets of the Venus Chocolate Company in 1922. He expanded the business and it soon occupied a new structure on North Main Avenue, across the street from the present site of Sidney 'Ace' hardware. They installed modern candy-making machinery from France and imported raw chocolate from India. At the height of production, over two tons of chocolate candy a day was made and shipped to a market area covering four states.
| | |
| --- | --- |
| | |
The Olympia Candy Kitchen was opened on the east side of the court square, on Main Avenue, where Courtview Center now stands around 1910. Another candy operation was the Purity Candy Kitchen, also founded by Evans Johnson. It was located where Mr. Hickok started his business - the northwest corner of Poplar Street and Ohio Avenue. Johnnie Kookootsedes was the long time manager of the Purity. Mr. Johnson also formed the Evans Johnson Candy Company in March of 1917. He rented space on the sixth floor of the Oldham Building (now the home of Canal Place Apartments on Poplar Street), to begin operations.
The last and perhaps the best known of the confectioneries was the Cherry Cheer Company. Wilson Carothers, whom was mentioned earlier in connection with the Buckeye Churn Company, left Buckeye to develop a business with his sons, W. R. and J. C. Carothers. They began the manufacture of soda fountain syrup and related products in the basement of the Carothers home at 902 Walnut Avenue in 1907. The business was soon moved to Wilkinson Avenue. That structure still stands. The growing business outstripped its new location on Wilkinson Avenue after eight years, and in 1916, took over the building formerly occupied by the Underwood Whip Company at the corner of North Street and Highland Avenue. Fine chocolates were also produced. During the First World War, company officials chalked up sales across the European continent to Siberia.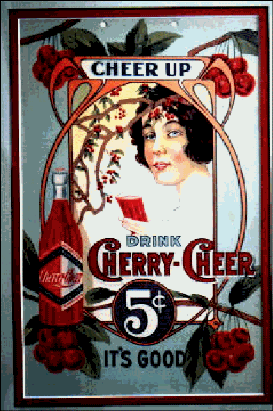 Cherry Cheer Advertisment courtesy of Tom Homan.
Industry segment written in January, 1998 by Rich Wallace