Indians in Shelby County, Ohio when Settlers First Arrived
The James Thatcher family was the first to settle in this area. In the years preceding the War of 1812, there were less than 50 families in Shelby County. The migration into Shelby County, Ohio was negatively impacted by a renewed fear of Indians during the War of 1812. Even though local men joined the Army, there appears to have been little military activity in this area and no record of combat deaths. After the War ended, the settlers began to inhabit parts of the county other than Loramie Creek and the Great Miami River basin. There were a number of Indians near Shelby County. After the War of 1812, more than 6,000 Indians had settled near Colonel John Johnston's home in Piqua. Although most were peaceful, there were some troublemakers.
According to Miss Ann Conklin's recollections of Sidney in the early years after it was platted, "[a building] was owned by a man named Beatty, whose principal occupation seems to have been the selling of the roughly distilled whiskey made in the vicinity. Such as it was, it was eagerly drank by the Indians, of whom there were then plenty, on their way to and from the office of the agent, Johnston, at Piqua. One hundred, or more, on their ponies, in all their savage trappings, was no unusual sight in Sidney in those days."
Another Sidney newspaper column [undated] written by Blanche Gearhart on the 'Early History of Sidney' stated that "an old fort stood on Main street near the present site of the Catholic church. Twenty-five or thirty men were stationed there as protection against the Indians. There were two tribes of Indians near Sidney, the Delawares and the Potawataines. The Delawares were friendly to the whites but the Potawataines were war-like."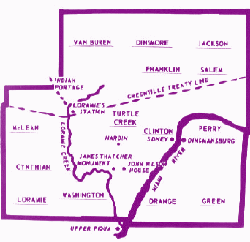 'Downtown' segment written in October, 1998 by Sherrie Casad-Lodge