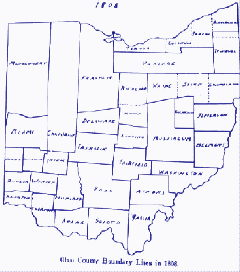 Boundary Changes
From 1801 until 1808, there were several county boundary changes in Ohio. Shelby County began as part of Hamilton, then Montgomery and finally Miami County. Shelby County separated from Miami County in 1819 and had some modification of its boundaries up until 1883. To reduce confusion, the Shelby County area is referred to by its current name throughout this web site.
Limited information about Shelby County's early years is known since its first newspaper, "The Western Herald" was not published until 1831. And, like other small town newspapers, not much space was devoted to local information. Normally, the editor received a subscription to a larger or eastern city paper, then copied these items for publication in the local newspaper which was published weekly. The first daily paper in Shelby County was published in 1883.
Official records, such as those for marriage, estate, land transactions, taxes, etc., were compiled beginning in 1818. In the years preceding the War of 1812, there were less than 50 families in the Shelby County area.

'Pioneer' segment written in October, 1997 by Sherrie Casad-Lodge